---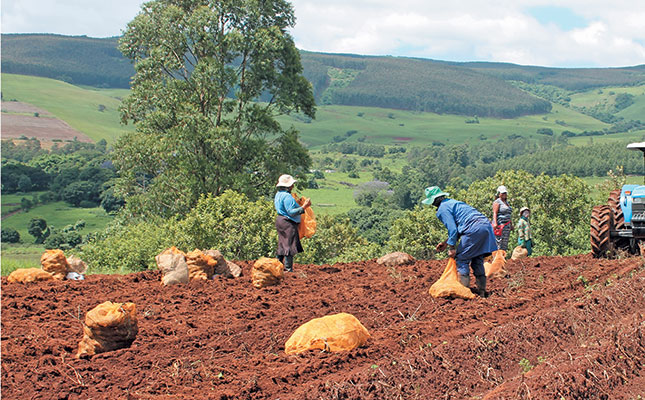 Despite complications brought on by the COVID-19 pandemic, UN Women and Standard Bank are making progress in equipping women farmers in Africa with the skills and resources needed to grow their businesses and succeed over the long term.
In October 2019, Standard Bank and UN Women partnered to empower more than 50 000 women farmers in Malawi, Uganda, Nigeria and South Africa through modern and environmentally friendly farming technologies that increase productivity and incomes.
Through the Climate Smart Agriculture (CSA) project, women farmers, authorities, local farmer organisations and co-operatives are addressing structural inequalities in rural economies in Africa, including access to quality farmland.
Standard Bank has provided funding worth US$3 million (about R45,77 million) as well as ongoing support through financial literacy and other programmes.
"The CSA project supports Standard Bank's drive to create a gender-equal Africa and aligns with our purpose of driving the continent's growth," said Sola David-Borha, chief executive of Africa Regions at Standard Bank Group.
"We believe it will meaningfully contribute to the upliftment of communities and the achievement of sustainable economic growth across Africa."
"This project is closely aligned to the UN Sustainable Development Goals, particularly when it comes to gender equality, access to decent work, and economic growth," said Dr Vera Songwe, UN under-secretary general and executive secretary of the UN Economic Commission for Africa.
In South Africa, the project delivered agricultural inputs to 2 753 women farmers in the first half of 2020. The inputs included drought-resistant seeds of various crops, organic manure, farming equipment, and training on climate-smart agriculture.
In addition to critical farming skills and tools, the beneficiaries received training for key technical skills including financial literacy. This is an important component of the project in that it will help to ensure the long-term success of the farmers.
Approximately 950 women farmers in South Africa received training in business management and digital and financial literacy in the first half of 2020.
The UN Women office in the country has continued to work throughout the national lockdown, and Standard Bank has remained fully operational as a designated essential services provider. In response to the pandemic, digital technology is being used to conduct meetings where possible.
Besides business skills, the programme is designed to increase productivity, facilitate access to higher-value markets and supply chains, and yield high-quality produce.
"By the end of the programme, we want to ensure that women farmers are well equipped to thrive in a changing climate," said Keneilwe Nailana, senior manager of agribusiness at Standard Bank South Africa.
"They will also be better placed to move up the value chain and access new markets and finance, and ultimately to grow their businesses."
Related News From Elsewhere