---
Over the past 9 years, the Food Safety Consortium Conference & Expo has built a reputation for delivering perspectives and insights from the most knowledgeable and influential experts in food safety. As a result of the COVID-19 pandemic, last year's event was converted from an in-person event into a 14-week series of virtual themed-episodes during the fall. Continuing the momentum from 2020, the 2021 Food Safety Consortium Virtual Conference Series will take place as a four-week Spring and five-week Fall program. Both the Spring and Fall programs will feature critical thinking topics that are for industry veterans and knowledgeable newcomers.
"As you know, the online experience is very different than in-person, so last year we deconstructed our in-person program and re-engineered it for virtual. Instead of having a virtual conference for three straight days, we set up our program in short 2.5-hour themed episodes that ran every Thursday in the fall. We received great feedback from attendees, speakers and sponsors. I think we were one of the few conferences that successfully pulled off the pivot to virtual," says Rick Biros, president of Innovative Publishing and director of the Food Safety Consortium.
Building on the strong success of the 2020 Food Safety Virtual Conference Series, the 2021 Consortium will be presented into two seasonal programs. "This will allow us to continue the conversation throughout the year, while also taking into consideration the busy lives of food safety professionals," Biros adds.
Food Safety Tech is the media sponsor and will feature exclusive content from the event.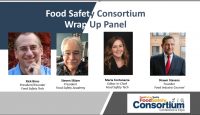 The Spring Program will run every Thursday in May, with each episode starting at 12 pm ET. The weekly episodes will tackle a range of critical topics in foods safety, including FSMA and traceability, food protection strategies, COVID-19's lasting impact on the food industry by segment, audits and supply chain management. Frank Yiannas, FDA deputy commissioner for food policy and response, is the confirmed keynote speaker.
The Fall Program will run every Thursday beginning on October 7 at 12 pm ET through November 4. Episode topics include food safety hazards (emerging threats and new technologies), food defense strategies, an FDA update, and personal development, training and mentorship.
The agenda for the 2021 Food Safety Consortium Spring and Fall Virtual Conference Series will be released soon, so save the dates on your calendar now!
TechTalk Sponsorship
Companies that are interested in sponsoring a 10-minute technical presentation during the series can contact Sales Director RJ Palermo for more details.
About Food Safety Tech
Food Safety Tech is a digital media community for food industry professionals interested in food safety and quality. We inform, educate and connect food manufacturers and processors, retail & food service, food laboratories, growers, suppliers and vendors, and regulatory agencies with original, in-depth features and reports, curated industry news and user-contributed content, and live and virtual events that offer knowledge, perspectives, strategies and resources to facilitate an environment that fosters safer food for consumers.
Since 2012, Food Safety Tech audiences have learned to respect and expect our high-quality content—via FoodSafetyTech.com, our weekly newsletter and by attending our educational programs. Food Safety Tech keeps professionals current with the latest information about technology, best practices and regulations, and how innovative solutions and approaches can be leveraged to further advance food safety across the globe.
About the Food Safety Consortium Conference
The Food Safety Consortium is an educational and networking event for Food Protection that has food safety, food integrity and food defense as the foundation of the educational content of the program. With a unique focus on science, technology and compliance, the "Consortium" enables attendees to engage in sessions that are critical for advancing careers and organizations alike. Over the past 9 years the Food Safety Consortium has built a reputation for delivering the most knowledgeable and influential perspectives in food safety. The speaker line-up has driven key food safety decision-makers to the event (both in-person and virtually)—facilitating an environment for vendors, suppliers, food industry professionals, and consultants to network and build long-lasting business relationships.
Due to COVID-19, the 2020 Food Safety Consortium was converted to a virtual conference series that featured specific topics in a weekly episode series. The 2021 Food Safety Consortium Virtual Conference Series will feature a Spring and Fall program, running in May and October, respectively.
The post Save the Dates: 2021 Food Safety Consortium Virtual Conference Spring and Fall Series Announced appeared first on FoodSafetyTech.
Related News From Elsewhere